In the wine business, wineries and wine culture in general, aesthetics play a very special role. A role that is almost as important as the quality of the wine itself. In the wine industry, having an elegant, smart and sophisticated website is a thing of crucial importance. And this is precisely what I had in mind when I created this list of the best winery WordPress or ClassicPress themes. One advantage of WordPress as a platform is that it allows you to create a website that will be a perfect reflection of who you are as a brand and what you stand for. In the wine business, this is something that is particularly important.
There are winery themes for WordPress that can be used as they are, or customized to fit your needs, and these are the winery WordPress themes are ideal for any sort of wine-related business, whether it's an elegant wine bar, a countryside vineyard or a budding small business working in wine distribution and sales:
1. Vino – A Refined Winery, Wine Bar and Vineyard Theme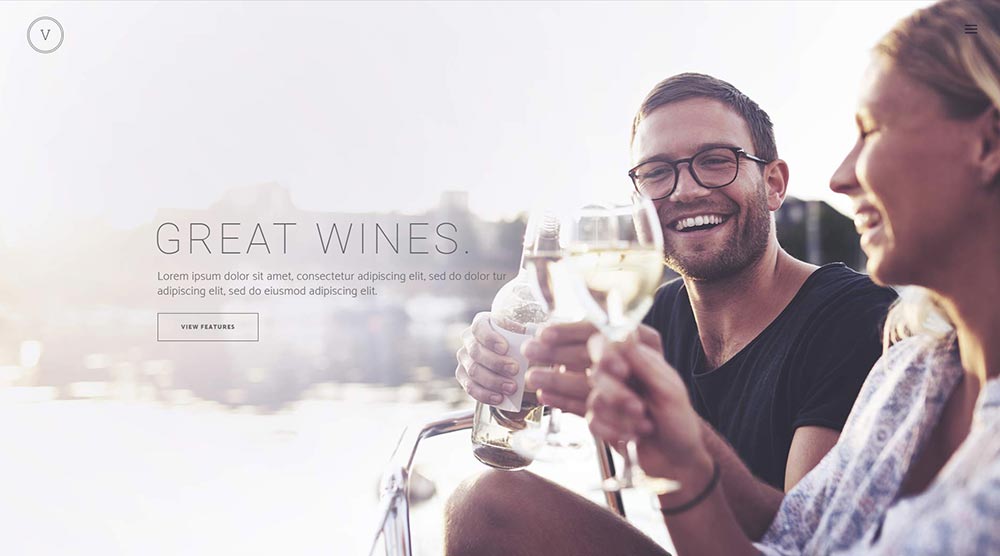 To begin with, this is a theme that immediately stuns with its sheer elegance, the simplicity of hip minimalistic design and soft, dimmed colors. The design is not all that makes Vino a complete stunner among winery WordPress themes. The real value of this theme is in the variety of excellent homepages and impressive sections that come with the theme.
Specifically, Vino packs nine different homepages, each prettier than the last one. We particularly like the impressive Parallax Showcase Home, with a powerful but unpretentious parallax effect on the scroll. Also worth noting is the Wine Shop Home, where you can list your products in a way that will make your page visitors want to spend hundreds of dollars on your bottles.
Furthermore, Thanks to the Wine List shortcode, you caneasily list your menu items. We also really like the Showcase List Item shortcode, which allows you to show the journey that your winery or one of your wines made overtime, giving it a romantic value your customers are bound to respond to.
Also, maybe right now you're not planning on starting a blog, but when you see Vino's premade blog pages with plenty of options and custom posts, you might just change your mind.
If you are in the wine selling business, then we have a terrific section to show you. As you know, not all visitors come to your site to actually purchase anything. Perhaps they just want to look around, see what your winery is all about.
But then they come upon this Interactive Info Box, which should be placed right there on the homepage, combining the image of the product with some essential info, complete with a dynamic hover effect taking the user directly to the shop pages. It will definitely tickle their curiosity and make them want to buy a bottle or two.
Each wine has a story to tell and your WordPress site should be the voice. You can use the Wine Label Homepage for this sort of compelling storytelling but even if it doesn't fit as a homepage, you can always use it for one of the inner pages.
Features that make Vino the best Winery WordPress theme:
Free WPBakery Page Builder and Slider Revolution
Translation Ready
Multiple Logo Versions
Workflow Shortcode
Extensive Typography Options
2. Thelma – Wine and Winery WordPress Theme
Thelma is a clean, neat, striking winery WordPress theme with a particular focus on animation. The theme packs some quite dynamic, modern solutions. One example are the animated buttons, with a cool strike-through animated effect. It's a simple, yet a very powerful solution. Plus it adds an extra kick to the theme's visual appeal.
We especially recommend the Vineyard Homepage, with a terrific selection of shortcodes. These are created to help youmake your winery website an exciting, dynamic and modern place to be.
Another innovative thing about this theme that your winery website could definitely benefit from is the Side Area feature. Clicking on the icon in the top right corner of the page opens the side area. Here you can conveniently list your contact details, place buttons for your social profiles, with a neat Instagram gallery. Unfortunately, side areas are often neglected. Should you opt for this theme, you can seize the opportunity to display your content in a way that users have not yet grown tired of.
By the way, the pages also featurethe always-attractive parallax sections, which by now represent the gold standard in web design. Yet somehow Thelma managed to make them appear brand new and super fresh.
Next, for showcasing your best products, we recommend using the Vertical Carousel, a dynamic, modern and elegant way of displaying items and item info. Combined with superior typography choices, this is a great contribution to your site and your brand in general.
Every business needs client testimonials. It's a way of showing your prospective customers that your product has been tried and tested and that people were impressed by it. Thelma conveniently includes not one but two types of testimonials you can use on your winery website. We particularly like this style, as it is not overused by other themes and adds a modern touch to the site:
Generally, one of the most important pieces of information every user looks for when checking out a website for any sort of establishment is the working hours. You'll be happy to hear that you don't need a special shortcode for this, as there is a perfectly functional Working Hours shortcode that comes with Thelma. And, unsurprisingly, it looks great.

Features that make Thelma the best Winery WordPress theme:
Call to Action Shortcode
Three Side Area Types
Social Share Functionality
Process Shortcode
Multiple Header Behaviors
3. Vineyard – Wine Store Responsive WooCommerce WordPress Theme
Vineyard is an excellent choice for wine business owners who want to run a fully functional, easy to use and beautifully designed ecommerce site. Vineyard allows you to display your bottles in a gorgeous way. Plus it helps lure in customers thirsty for some exquisite wines. The design is clean and elegant, combining modernity with great wine-making traditions.
As I said, a lot of attention is paid to the online shop here. Specifically, you have a lot of customization options, from how to display products (grid or list, full-width, left or right sidebar…) to the options you want to offer your customers.
Wines can be divided into categories and further sorted by popularity, rating or price. Price range and bottle size are also applicable as filters. Customers love having this sort of choice as it narrows down search times significantly.
In addition, the shop also features a very interesting hover effect on products. Namely, the Shopping Cart and Compare buttons "drop down" into sight as the user hovers over the image. It's always a good idea to add a dynamic effect like this to your shop. Primarily to set it apart from others and get the customers in a good mood for buying.
If your winery, cellar or wine bar organizes regular events, you'll be pleased to learn thatVineyard includes an excellent Events functionality. Your event details will be listed in a way that is not only elegant and enticing but also very clear and informative.
The Welcome Vineyard homepage represents an excellent solution for displaying your wine-making tradition, your best wines and people working on them. Visitors love hearing a little more on the winemakers and their history. Plus, it makes them more likely to trust your brand and try your wines.

We should also note that, while its name suggests a wine-related business, Vineyard is actually a multi-purpose theme that can be used for any other sort of online shop.
Features that make Thelma the best Winery WordPress theme:
Call to Action Shortcode
Three Side Area Types
Social Share Functionality
Process Shortcode
Multiple Header Behaviors
4. Aperitif – Wine Shop and Liquor Store
Whether looking for a theme to represent a vineyard, wine bar or spirits store, Aperitif is sure to have something for you. With warm, muted tones, this theme simply breathes retro glamour. And that impression carries over to each of its nine different homepage layouts.
This themehas everything you could possibly need to make an elegant and tasteful presentation for your business. Beyond the looks reflected in strong typography, toned-down stylish design details, and subtle interactive elements, this theme possesses all the functionalities you could ever need.
Starting with the homepage, the layout is carefully arranged to provide the perfect balance of imagery and text. Spacious areas in toned-down shades allow the content to shine while helping to avoid oversaturation. This assures the visitors will be able to navigate about easily and take everything in at their leisure. All information is presented clearly and neatly. The working hours and menu shortcodes, for example, usesdiffering fonts, colors, and font effects to keep everything looking sleek. Let your visitors enjoy your online presentation the way they would a glass of your wine.
Of course, the working hours and menu are just the start of what you can show and do with Aperitif. This theme comes bundled with a predefined contact page so you can let visitors know where to find you, embed a map, and include a contact form to let them get in touch. Another great feature that comes included is the Events page powered by the Events Calendar plugin. You can show off all your scheduled events in a list view or display them by month or day. Next, you can create detailed descriptions of individual events to entice your website visitors into dropping by your winery.
Features that make Thelma the best Aperitif WordPress theme:
Age Verification Page Included
Multiple Contact Form Styles
WooCommerce Compatible
Social Share Functionality
5. Luxwine – Wine WordPress Theme
Luxwine is quite an interesting winery WordPress theme. It offers a choice between light and dark demo. The two have the same content but the vibe is obviously completely different. Depending on your brand identity, you can choose the demo you want and start from there.
Another interesting feature of this theme is the full-screen menu, which is particularly impressive in the dark-skinned demo. The video background is striking, yet unobtrusive and creates an impressive effect on the viewer.
The light version of the homepage is dominated by whites, off-whites and greys, and as such is ideal for vividly-hued pictures of wines, vineyards, grapes and other wine-related imagery.
We also like the simplicity of the design here, and the way the pictures are revealed upon hover. Dynamic elements are always a great asset for any website, and developers of Luxwine must be well aware of that.
Also noteworthy here is the Instagram shortcode. Displaying Instagram pictures is a very common thing in websites these days but not all of them do it in such an innovative and elegant way. Colors on images appear upon hover, as if they're waking up, creating an atmosphere of magic and abundance.
Other sections don't lack this sort of magic either. Each one is equipped with a little something extra to help youcreate a beautiful, inviting winery website.
Features that make Luxwine the best winery WordPress theme:
Overlay Menu
Timeline Feature
$100 Worth of Premium Plugins
Extensive Documentation
Child Theme Support
6. Villenoir – Vineyard, Winery & Wine Shop
Villenoir is a particularly refined WordPress theme for wineries and wine businesses. It's also a theme that can prove to be a worthy ally to your brand in the quest to gain more clients. In addition togorgeously crafted homepages, Villenoir is rich in well-developed inner pages that we wholeheartedly recommend you make use of.
For instance, the Estate page allows you to tell the story of your vineyard and the facilities, along with a historical overview of how the brand has developed over time. Your visitors will appreciate interestingly displayed information about the soil, the water, the climate and other factors that play an important role in the birth of a wine bottle.
Furthermore, Villenoir makes excellent use of solutions such as slider galleries and video backgrounds. These elements are easy to implement wherever you want, and they yield excellent results. The Homepage Version 2 is a particularly good example of this.
Furthermore, Villenoir isexcellent for winemakers who organize a lot of events, wine tastings and dinners. The schedule has the option to search events per date and per month, so your visitors can find exactly what they're looking for in no time. Plus, additional details about the event, complete with a picture, are revealed as a card upon hover, which is also a cute touch.
The newsletter signup section is another useful thing that Villenoir has prepared for its users. Keeping your visitors up to date with your events, promotions, deals and other news is crucial for your lead generation efforts. With this theme, you get to invite and encourage visitors to sign up using a classy, beautifully designed form.
The Shop section of the homepage is also an interesting one. If you play your cards right and display your wines' best attributes, your visitors will be happy to click on appropriate buttons that will take them to the shop to seal the deal, so to speak.
Features that make Villenoir the best winery WordPress theme:
Age Verify Popup
Translation Ready
Multi-Level Dropdown Menu
SEO Optimized
MailChimp for WordPress
7. Saras – Pure Wine Wordpress Theme
Saras is a refined WordPress theme dedicated to wineries and wine businesses from the same authors as Villenoir and Luxwine. The template is 1170px wide with a light setting in contrast with dark footer which makes the site's ambiance more elegant and sophisticated. It features a multitude of business specific elements, large fonts and a spacious layout in order to help you gain focus on the website content.
The shop is powered by the most popular and powerfull ecommerce plugin available – WooCommerce. A very flexible plugin which gives you the possibility to sell anything, from digital downloads to women shoes, and especially wines.
Saras makes excellent use of solutions such as slider galleries,  fancy overlay menu and threaded comments, along with many other features. These elements are easy to implement wherever you want, and they yield great results.
Features that make Saras a great winery WordPress theme:
Clean Shop Page
Translation Ready
Multi-Level Dropdown Menu with Overlay
SEO Optimized
Featured Image Boxes
Conclusion
To summarize, from innovative, inspiring sections to modern animations and parallax effects, these themes are the perfect match for any winery, wine bar, vineyard or wine distribution business. Especially those that aim high and strive to promote the brand in the most efficient manner possible.
Wine is not just any product or piece of merchandise. It's a symbol of wellbeing, hedonism, abundance and joy, and, as such, deserves a theme that will do it justice. If you enjoyed this post, why not check out this article on 5 Top WordPress or ClassicPress Gaming Themes!
Post by Xhostcom Wordpress & Digital Services, subscribe to newsletter for more!
Filed under: eCommerce, Wordpress
Tagged with: wine ecommerce themes, wine themes